This site was updated on
February 17, 2006
Hello and welcome to the GangBuster Kennels website. We are a small kennel located in Brisbane Australia. At present we have 5 bulldogs. GBK's MAUD, bred by PEAKFORCE is now 3.5 years. We also have GBK's MAICE , bred by GLADIATORS who is now 3 years of age. These are our foundation bitches. We also have 3 up and comers, GBK's BLUE LAGOON, bred by MICK'S KENNELS who is 10 months and is owned by my brother Adrian Fragiacomo, GBK's ROCKY MARCIANO, bred by GBK and GBK's STEPHANY, bred by us, GBK American Bulldogs. Rocky and Steph are littermates out of our Maice and are 7 months of age. Rocky is our future stud dog as his breeding will make him a strong producer.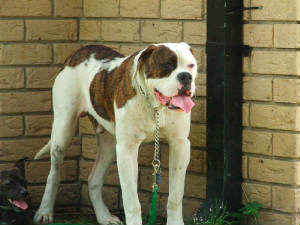 Above is our pick male out of Rocky's first litter! OSCAR is pictured here at 8 months of age. He is very tall and is going to be a big boy! He is out of PDJ's STELLA, a hybrid bitch with scott type looks. Stella is from PDJ's MAXIMUS x PDJ's APACHE of Potters. Oscar is an up and comer!!!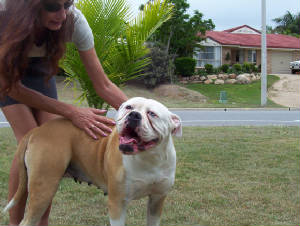 GBK's BLUE LAGOON (BELLA) at 13 months.
Bella is from SWK's GENERAL JACKSON x Mick's BAD GIRL